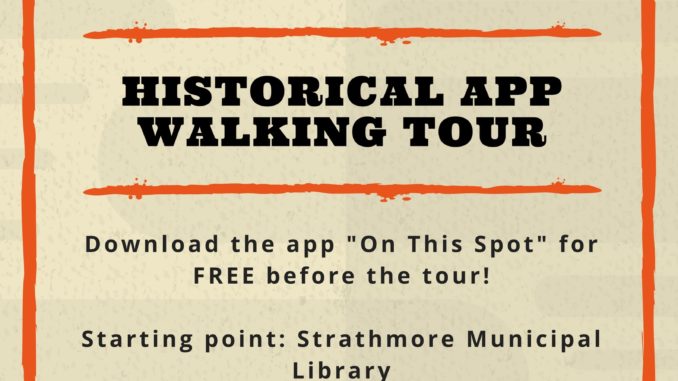 On June 9th, 2018, the Western District Historical Society celebrated the official launch of their "On This Spot" walking tours.  Local guides were present at five of the many historic sites recognized in the tours to introduce participants to the story of Strathmore. This was followed by an enjoyable barbecue luncheon held at the Klaiber property, a part of the historic Canadian Pacific Railway Demonstration and Supply Farm.
Our thanks to the Town of Strathmore and their staff for their assistance in organizing this event, and to the Town and local merchants for their cooperation in closing down traffic on two blocks of the old "Main Street" that morning in order to safely facilitate the event.  Our thanks go also to the Klaiber family and to the many WDHS members, additional volunteers, and participants who came out to help celebrate the event. The On This Spot app is the invention of Andrew Farris of Vancouver, founder of On This Spot, who worked with the Western District Historical Society to create these exciting walking tours.
Click on the link above to learn about and download the "On This Spot" app to experience Strathmore's history in an exciting new way with three historical walking tours.  Download the app for FREE before the tour.
The "On This Spot" app takes people on guided walking tours through the history that surrounds them. At each stop on their journey, users will find themselves standing on the spot a historic photo was taken. They can view a then and now photo comparison, use the built in camera to create their own, and read about local history and how it ties into the broader human experience.