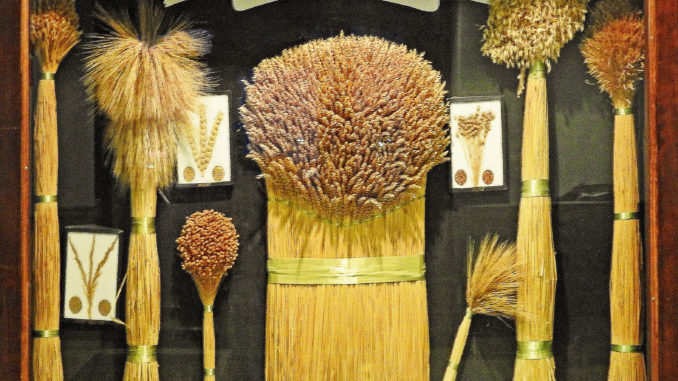 Western Grains Exhibit at Wheatland Hotel
On August  3rd, 2017, on behalf of the Western District Historical Society,  Rhonda Stockwell and Tom Sadler presented the owner of  the Wheatland Hotel with a framed certificate recalling the history of  the Western Canada Grains exhibit which has for many years been on display in the Hotel lobby.
An artifact of the Canadian Pacific Railway Demonstration and Supply farm, as many as three of these displays were made up as advertising exhibits to be displayed at places such as the Canadian National Exposition in Toronto.  The bounteous displays of western grains were a work of art, meant to encourage settlers to take up farming in the grain basket to the world.  In the 1950's this one remained, and was displayed in the hallway of Strathmore's old Samuel Crowther School.  Salvaged before the school was replaced, the display has stood for many years now in the foyer of the Wheatland Hotel.